When you purchase through links on our site, we may earn an affiliate commission, here's how it works.
Best Refrigerators With Ice Makers In 2023
Last Updated September 12, 2023
imagine a hot summer day when you got your favorite drink and to put the cherry on the icing you'll just need some ice, but here comes the sad part, there is no ice! Here's where the magic of a refrigerator with an ice maker comes in.
Just a button's press away, this appliance swoops in like a hero. Suddenly, you're showered with a torrent of ice cubes. Your drink transforms into a chilled masterpiece, turning an ordinary moment into something special.
No more fussing with ice trays or waiting impatiently. With an ice-making fridge, you get ice without the hassle. It's like having your own personal ice factory, ready to serve up cool refreshments whenever you desire.
So, if you're out there to upgrade your old boring fridge for a more luxurious masterpiece and always be able to drink refreshing cold drinks then you're at the right place, we rounded up the best refrigerators with ice makers.
Best Refrigerators With Ice Makers
Bosch 500 Series-French Door Refrigerator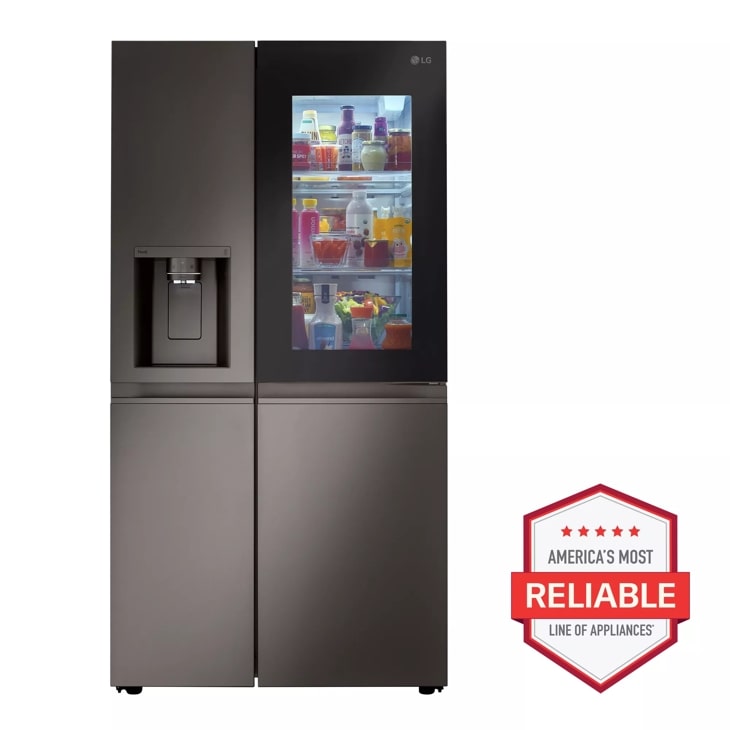 LG 27 cu. ft. Side-By-Side InstaView™ Refrigerator
Samsung – 23 cu. ft. 4-Door Flex French Door Counter Depth Refrigerator
Bosch 500 Series French-Door Refrigerator
Dimensions (in): 70 H + 36 W x 25 D 
Shelf Material – Refrigerator: Safety glass
Total Capacity: 26 cu. ft.
The Bosch 500 Series is not only a good-looking refrigerator but also the fastest ice-making refrigerator on the market. The QuickIcePro system grants users the power to enjoy more than 40 cups of freshly filtered ice every day, making sure you're always ready to chill and enjoy.
Furthermore, The Bosch 500 Series uses the UltraClarityPro filtration system to generate clean, filtered water and ice as well as hands-free bottle filling, so that you can grab water on the go. Fill your favorite glass or bottle hands-free using BottleFill technology. Fill your favorite container once, press bottle fill to save the quantity, and enjoy a hands-free fill each time thereafter.
Another great feature is the Home Connect™ app that allows you to remotely monitor and control your Bosch refrigerator from your smartphone or tablet. Control the temperature or adjust lighting wherever you are.
Of course, with all these great features, the Bosch 500 Series is technically a masterpiece that also comes with a hefty price of $3.549.
LG 27 cu. ft. Side-By-Side InstaView™ Refrigerator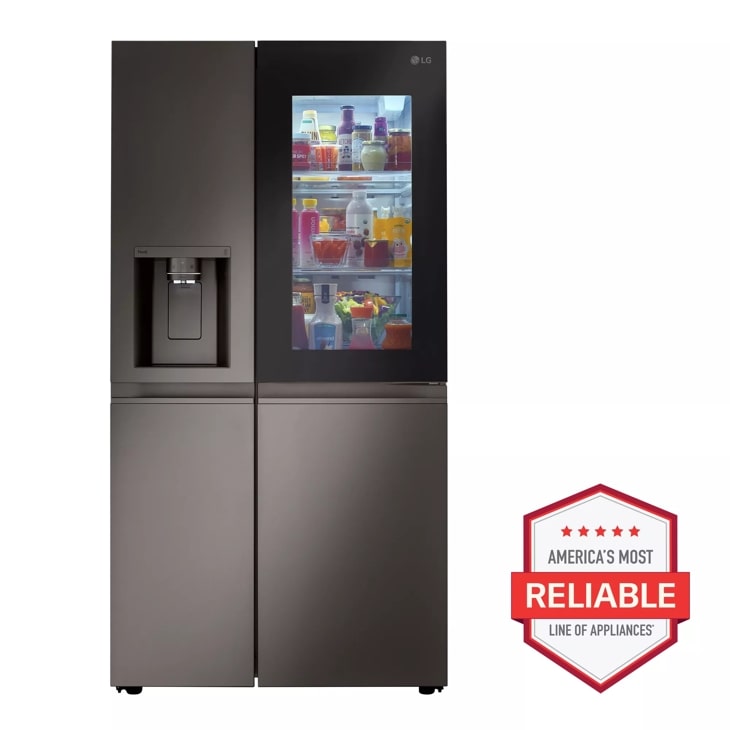 Dimensions (in): 34 D + 37 W + 74 H
Shelf Material – Refrigerator: Tempered glass 
Total Capacity: 27.1 cu. ft.
The same goes for the LG Side-By-Side InstaView refrigerator that features duel ice make and a Craft Ice™ maker that automatically makes batches of three or six slow-melting Craft Ice™ per day. The duel ice maker presents traditional cubed ice and crushed ice which becomes available at the touch of the dispenser. 
Further, the LG also offers InstaView door which transitions from ordinary to transparent with two gentle knocks so you can take a peek at what's inside.
With all these neat features you're looking at a price of $2.332,  you'll save around $1.200 in comparison to the Bosch 500 Series, and use the saved money on something else?
Samsung - 23 cu. ft. 4-Door Flex French Door Counter Depth Refrigerator
Dimensions (in): 28 D + 35 W + 71 H
Shelf Material – Refrigerator: Tempered glass 
Total Capacity: 22.8 cu.ft.
We can assure you that the Samsung 4-Door Flex French Refrigerator will be your best friend and is totally worth the $3.509.
Firstly and most importantly, this beast has a dual ice maker where you can choose from standard ice cubes or crushed ice and can produce up to 6 pounds of ice a day.
Furthermore, you can Customize your lower-right storage space to be a refrigerator or freezer thanks to the FlexZone feature. With five adjustable settings, you choose what foods to store from fruits and vegetables to your favorite ice cream.
Keep your refrigerator's air fresh with a built-in deodorizing filter. The filter reduces odor from the air in your fridge, while UV technology continuously cleans the filter itself.
And lastly, the Samsung 4-Door Flex offers a built-in pitcher that automatically refills with filtered water and the option to infuse with a flavor of your choice.
In conclusion, these great feature makes every single penny of the $3.509 totally worth it.
Things To Consider When Buying a Refrigerator
We guess most of y'all came here to look for the best refrigerators with ice makers. While that's one of the best features a refrigerator can have, there are still a few factors to consider when buying a refrigerator. You don't want to terrorize your wallet to just buy an ice-making refrigerator, so, to help you out we made a short list of the factors to consider when buying a refrigerator.
Things To Consider When Buying a Refrigerator
1. Size and Capacity: Consider the available space in your kitchen and the capacity you require. Think about the number of people in your household and your storage needs for both fresh and frozen items. Also, look for the product dimensions, the fridge may not fit in the desired spot.
2. Style and Design: Choose a style that complements your kitchen decor. Options include top-freezer, bottom-freezer, side-by-side, French door, and built-in models.
3. Energy Efficiency: Look for the Energy Star label to ensure the fridge is energy-efficient, saving you money on utility bills over time.
4. Features and Functions: Determine which features matter most to you, such as ice makers, water dispensers, adjustable shelves, humidity controls, and smart technology integration.
5. Noise Level: Consider the noise level of the fridge, especially if your kitchen is close to living spaces. Look for models with noise reduction features.
6. Maintenance and Cleaning: Check if the fridge has removable shelves and drawers for easy cleaning. Some models also offer anti-fingerprint coatings.
7. Cooling Performance: Read reviews or look for information on how well the fridge maintains consistent temperatures, keeping your food fresh for longer.
8. Freezer Configuration: Decide if you prefer a traditional freezer-over-fridge layout or a bottom freezer, which offers easier access to fresh food items.
9. Brand and Reputation: Opt for well-known brands with a reputation for reliability and good customer service. Research reviews and ratings to gather insights from other consumers.
10. Price: Set a budget that aligns with your needs and preferences. While more expensive models may offer additional features, it's important to find a balance between features and cost.
11. Warranty: Check the manufacturer's warranty to ensure you're covered in case of any defects or issues with the fridge.
12. Longevity: Consider the expected lifespan of the fridge. A higher upfront investment in a durable model can save you money in the long run.